Just because you've moved into a townhouse doesn't mean you can't have a gorgeous outdoor space and thriving garden! One of the best things about owning a townhouse however, is how low maintenance your lifestyle becomes, so here is some inspiration on courtyards you can enjoy all year round without the hassle.
Pots for Greenery
The best way to add some greenery to your courtyard is with pot plants! Nothing to mow and barely anything to weed. Find low maintenance plants which thrive in shade or sun, depending on your choice of placement, and use some funky pots as features in your outdoor area. If you're placing your pots on concrete, pavers or timber, just remember to put something underneath as the excess moisture from watering has the potential to ruin the surface.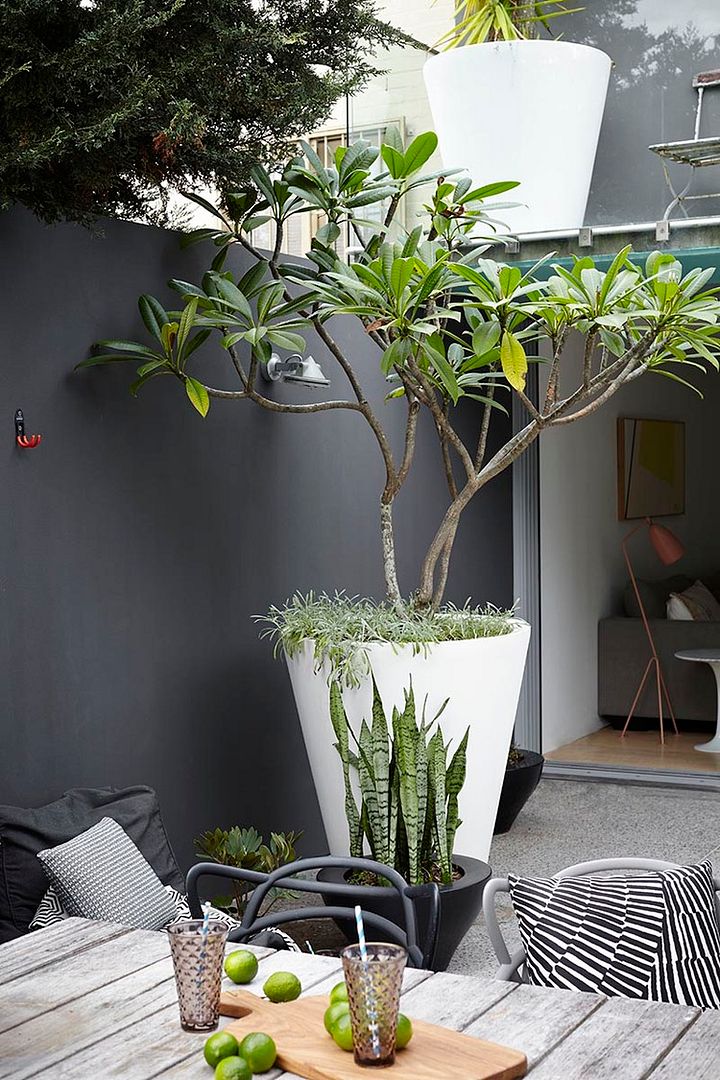 Image Source: A Growing Obsession
Add some Outdoor Curtains
The flow of breezy outdoor curtains soften the space so much and add a touch of luxury. Attach some mosquito net or tarp curtains to your balcony or patio and style with fisherman's rope, a chain, ribbon or outdoor curtain clip to reflect your own personal style. Pair with some festoon lights and your'e ready to entertain.
This is such a cheap and easy way to add something unique to your outdoor area. You can either make your own or splurge a whole $8.99 on a ready made set from Ikea.
Image Source: A Beautiful Mess 
The AVJ Lily townhouses have done half the work for you with a perfect patio to hang them off! For just $449,000, there's only one left!
Then Add an Outdoor Chandelier
How quirky! Fill the base with citronella candles to truly enjoy your outdoor space. This tutorial shows you how you can make your own or you can splurge on something similar here.
Image Source: REMODELaholic
Decorate to Elongate
The typical design of a townhouse features more length than width. To maximise space and practicality, fill your space with longer furniture that is more rectangular as opposed to square and ensure you pair your set with chairs that can tuck in. This not only gives you so much more space to move around, but also offers you the chance to style your table with an ongoing centerpiece for your next party.
Image Source: JL Designs